Welcome to The Hemming Bird
Based in Stratford-upon-Avon, I run sewing workshops for all abilities, teaching people to sew or helping them improve the skills they already have.  Sewing lessons and courses are a fun way to learn to sew and make projects for your home.
All the workshops focus on sewing skills to make useful things for your home including cushions, curtains,
roman blinds, aprons, wash bags, doorstops or any project you might want to make to help furnish your home.
Sewing courses and workshops are held at either my garden studio in
Stratford-upon-Avon, or Talton Mill, Newbold-on-Stour.
Learn to sew and choose your workshop or sewing course … keep up-to-date with available spaces on upcoming workshop dates via the website, in my newsletters and on my Facebook and Instagram pages.  During August the website (which is a new one) is undergoing a bit of extra construction to be ready for September bookings which you will be able to book and pay for online. 
In the meantime, please contact me on 07735 503824 with any queries you may have.  Thank you for your patience.
"What a brilliant day the old 'Can't Sew Won't Sew' had and I'm thrilled with the cushion and the bag, thank you Sarah I really enjoyed it… you were so patient and helpful. I would like to come to your Sewing Café to make some more cushions please!"
– Sally W, Stratford –
Beginners 4 Week Introduction to Sewing
About Me
My passion for sewing started at an early age when making matching outfits for mother and daughter was the done thing!
What I love about sewing and still do, is being able to make something that is exactly what I want and well-finished enough so it looks as though I have bought it.
It certainly doesn't have to be expensive either, in fact the thriftier the better!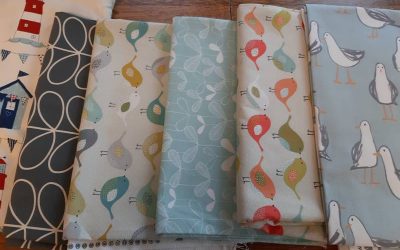 So where do you start when choosing fabric?  Asking yourself the following questions will help start you off... Are you looking for soft furnishings fabrics or lighter dress-making fabrics?  For soft furnishings, which I recommend using, there are a whole host to...
THE GARDEN ROOM (at the bottom of the garden)
136 Banbury Road, Stratford-upon-Avon CV37 7HU
TALTON MILL - The Millhouse Café
Newbold-on-Stour, Stratford-upon-Avon CV37 8UG