All workshops are listed here with dates for 2021 booking
Finally we are allowed to meet face-to-face once again and I for one am so excited to be adding new dates to the calendar! I am also excited to be adding some new workshops to the list which includes Box Cushions Workshop (piped and non-piped) and a new Improvers 6-week Course to follow on from the Beginners' Course.
So have a look through and get in touch to sort out dates and times especially if the dates shown don't fit with your schedule.  A chat over the phone is the most useful way of learning what you are after and sorting out a time to suit!
Skills Needed For Each Level
Beginner Level – this is for complete beginners and those who feel so rusty they are not sure where to start. You may have been given a sewing machine or have one in the loft which you keep meaning to get down and start using. Or you would like to learn sewing but have no sewing machine as yet.
Elementary Level – you have done some sewing in the past or even now and feel inspired to take your confidence to a higher level – you think you could tackle making the furnishings in your home (thus saving a fortune!) – how difficult can it be?!
Intermediate Level – you have used a sewing machine before and may have made your own clothes or similar projects. You now fancy learning the skills to make soft furnishings to take your skills to the next level.
Advanced Level – your have done a lot of sewing and crafting and love learning new skills. You may have already made soft furnishings but you would like to know exactly how to make them properly and well-finished off. You may be considering setting up your own business making soft furnishings for others.
What Is Provided At Each Workshop
Use of brand new Janome DC320 Digital Sewing Machines and a variety of different feet.
Use of all Sewing Kit Tools which include: Quilter's ruler, large set square, small metal gauge, marking pens, metal tape measure, large glass-headed pins, darner's needles, unpickers, sewing scissors.
What You Need To Bring
Some fabric for your cushion and piping.  And thread to match your fabric.
Some fabric for your curtain sample and roman blind sample.
Beginners Course – you will discuss fabric and thread requirements once on the course. I can recommend local places to get fabric from.
With Covid-19, you will need to wear a well-fitting face mask and bring your own refreshments in a flask or water-bottle.  Also your own packed lunch if coming for the day.
Sewing Tool Kit
The following items can be ordered once you have used them all on your workshop. Simply choose which ones you like the best and found most useful.
Cutting: Scissors – spring-loaded, right-handed and left-handed. Scissors sharpener.
Rulers – Quilter's ruler in metric, metal measuring gauge, large set square, metal tape measure, 1m metal ruler.
Marking: Frixion pens – best-kept secret!
Pins and needles: Large glass-headed pins, long darner's needles, needle-threader.
Sewing Machines I Use
I rent Janome 230DC Digital Sewing Machines for use in the workshops, simply because I was sold a similar Janome machine whilst on my soft furnishings course and liked it. They are simple to use, simple to thread and positively purr along. If you are interested in buying your own sewing machine, the local agent for Janome (and other makes) is in Leamington Spa where you can ask for a demonstration.
The Sewing Emporium Ltd
21 Oxford Street, Leamington Spa, CV32 4RA
PHONE 01926 427572 MAIL [email protected]
Venues
The Garden Room at 136, Banbury Road, Stratford-upon-Avon, CV37 7HU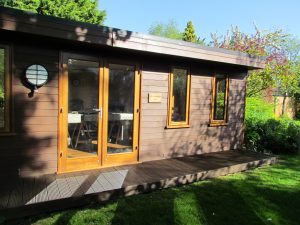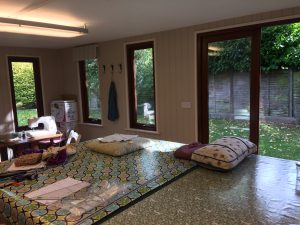 Discounts
If you are looking to cover all the skills to make cushions, curtains and blinds, you can get a discount of £15 if you book all three at the same time (Full day Courses at £85 each).
Terms and Conditions
I do not tend to offer refunds except in exceptional circumstances. I will always try to rearrange attendance if there is any difficulty in attending. Do get in touch if you are unsure about attending… I don't bite!!
I have implemented various safety precautions in view of Covid-19 in order to make my workshops be as safe as possible for all of us.  If you feel unwell before your workshop or have been in contact with anyone who has had symptoms, please do not attend and we will reschedule.  Whilst every effort has been made to create a safe teaching environment, please be aware that it is ultimately your choice to attend, having weighed up the pros and cons.  If you are unsure, please contact me to arrange online tuition.
As and when the Covid-19 situation requires any urgent changes, I will inform you and make those changes with immediate effect.